Before she passed away, my grandmother held the unique distinction of being the oldest living retiree of the Springs Cotton Mill in South Carolina. As a matter of family fact, if you grew up using Springmaid sheets or towels, there's a good chance my grandmother made them.
Eulogies are often salted with the reflections of grandchildren lamenting they should've given their grandparents more time. I am not one of those grandchildren. I loved growing up near my grandparents, sharing in the stories and traditions of their lives and experiencing the influences of the community in which they raised my father and his six siblings.
While not exactly a tradition, there is one event my family spoke of that I've never been able to get out of my mind. It's what they called "a pounding."
"A pounding" took place whenever someone fell ill, was injured in the mill, or for any reason beyond their own control, couldn't make ends meet. In a community as close as theirs, it never took long to notice a family in need; and, whenever someone did, a call would go out to the neighborhood children.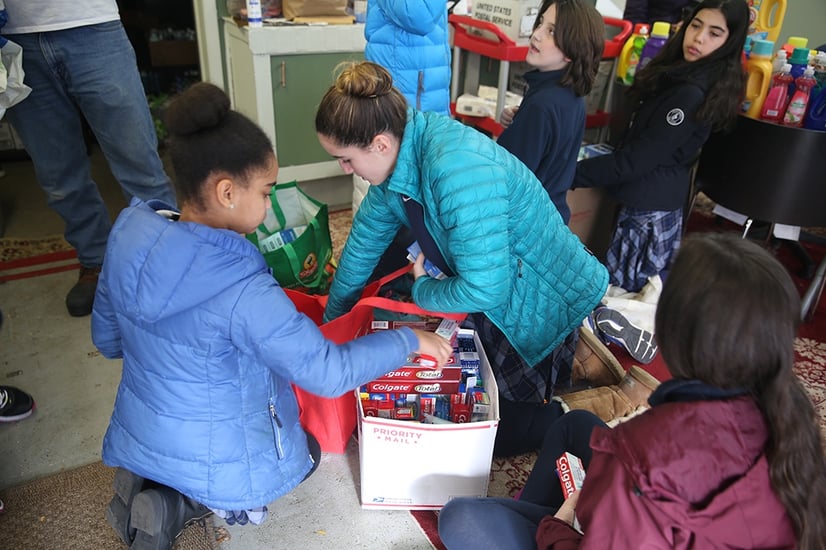 They'd commandeer a friend's Radio Flyer, and make their way from house to house, knocking on kitchen doors and politely asking for a pound of flour, a pound of butter, a pound of sugar, and so on. If you were lucky enough to have a couple extra dollars hidden in an old coffee tin and didn't mind tempting fate, you could put that into the wagon as well. After everyone had an opportunity to pitch in, the kids would deliver the bounty to the house in need, often leaving it quietly and uncelebrated at the kitchen door.
There'd be no thank you notes, no one's name etched on a wall in the town square. To the contrary – no one would ever mention it. You just knew that you'd done a good thing and that the machinery of the mill was unforgiving and indiscriminate, and at any time, the needs of your neighbor could become needs of your own.
Giving Tuesday shouldn't be about us. It should be about the needs of our neighbors, the chance to teach our children how to care for one another, and for each of us to create – even a little – change for someone else.
On Tuesday, November 28, non-profits everywhere will be "knocking on kitchen doors" all around the world. If you haven't already, you're likely going to hear from a few. Whitby School, however, will not be one of them. It's not that we don't need your support. We do. We are doing great work. We have lofty ambitions. And, while we are going to ask you to help us realize them – we're not going to ask on this particular Tuesday.
Giving Tuesday has quickly become known as the "official" kick-off to the season of philanthropy. There's irony to the fact that it occurs after a weekend of commercialized self-indulgence and when many of us are pitching the leftovers. But, at least it comes, and, in its short history, is creating real impact. So much so that there are now websites, white papers and webinars for non-profits to help them maximize their Giving Tuesday returns. In some of the larger organizations and universities, entire teams are formed to strategize around the day, and it seems that every kind of charitable organization is hopping aboard the train. And, that's why Whitby is opting out. Not because the field is full, but because we don't want to clutter anyone's view.
On Giving Tuesday, Please Don't Give to Us. Do this Instead:
Giving Tuesday shouldn't be about us. It should be about the needs of our neighbors, the chance to teach our children how to care for one another, and for each of us to create – even a little – change for someone else. So, with all due respect to my colleagues in academia, if your alma mater calls on Tuesday, don't answer the phone. Consider instead, doing what my wife and I plan to do: sit down at the kitchen table with our children and have a conversation about this thing we call "charity."
Perhaps take advantage of a teachable moment –or, in this case, a day, and speak to your children about the needs of the people you know or those people you know of. Talk about why hunger exists everywhere from Greenwich to Guyana and that the hungry can look just like us. Our children have heard a lot lately about the working poor. Maybe Tuesday is a good day to ask our kids what they think that phrase means? Talk about the refugee crisis or talk about countries ravaged by a changing climate, just don't forget to talk about the elderly lady at the end of your street and ask yourselves what she might need.
Ask your children what issue concerns them the most, and, if you're brave enough, ask them what they think you should be doing about it. Then, as a family, decide who you want to help this year and how you want to go about doing it. Set a budget and talk to your children about the impact of every dollar. A national health agency and your local food bank are both very worthy causes, but I wager one can stretch your donation a little further than the other!
---
Suggested Reading: Community Service For Teens & Preteens: 14 Ways to Get Involved around Greenwich

---
Maybe you choose to invest longer term in a charity that's doing a great job tackling one of the issues that matters most to all of you, or maybe you decide to split that same budget between several different agencies. There's no wrong way to give. If you don't know where to start, you might start by answering one or more of the Giving Tuesday requests stacked in your inbox. Or, take a look through our website. Our community service partners are all great organizations with amazing missions. I'm sure they would welcome your support.

But, once you've settle on a course of action, don't stop talking about it. Some problems are big and take more time, and those problems can seem daunting. So, if that comes up, talk to your kids about how to take a chip out of a global crisis like hunger by helping in their hometown. Above all, keep these conversations with your kids going, keep assessing the impact your giving is having, and keep giving after Tuesday ends.

Tell your children that it's okay to feel good when they give and that they should never be made to feel guilty when they can't give more. Tell them that giving is deeply personal and that they don't have to give but maybe they should. Not because you said so or because they'll need the tax write off when they are older but because they are part of a community, and it's what you do. Because the machinery of this world can be unforgiving and indiscriminate and the need of their neighbor could easily become a need of their own; and, for our neighbors' sake, let's teach our children to always be ready to respond to a knock at their kitchen door.

Happy Giving.