The Burke/Carroll Family Establishes the
Sidney Burke Carroll Endowed Scholarship Fund.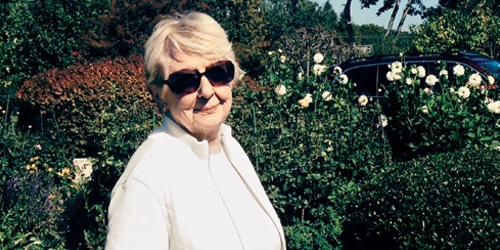 Whitby School is the grateful recipient of the Sidney Burke Carroll Endowed Scholarship Fund. The endowed fund provides financial support to an academically deserving student who might not otherwise have the opportunity to attend Whitby.
The fund was established with gifts from Sidney's four sons, Charles, James, Jeffrey and Matthew, all proud Whitby graduates, and Ms. Burke's sister, Phyllis Burke Davis.
Sidney Burke was an ardent supporter of Montessori education and even authored a children's book called You be the Judge inspired by conversations she had with children from her Whitby School carpool. Phyllis described "Sid" as compulsively curious. She was known for her organic gardens, love of Vermont, involvement in numerous civic activities and enjoyed these hobbies while earning her Juris Doctorate and subsequently working as an attorney in support of juvenile relations. All the while, she raised five energetic and admirable boys.
In 1973, the Whitby Bell was donated in memory of her fifth son, Thomas, who passed away as a youth. Ms. Burke's love of Whitby was so profound that her memorial service was held here on campus in 2011. We are deeply grateful to Charlie, Jim, Jeffrey, Matthew and Phyllis for this generous gift in Sidney's memory. In appreciation of this contribution and the family's long term commitment to and meaningful relationship with Whitby, a tree has been planted and a bench has been placed on Whitby's campus.