"An Astounding Coincidence"
A Letter from Gary J. Merken
Dear Malina, Michelle, Nandita, and Mr. Nixon: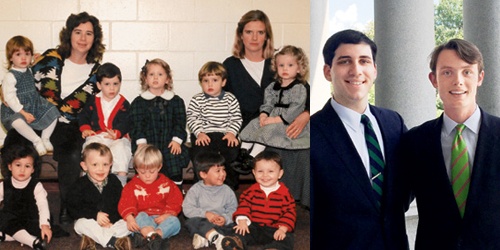 In September 1997, a couple of weeks before he turned two years old, my son Christopher Merken walked in through the front door of Whitby Montessori School. He joined Malina Marshall's afternoon Stepping Stones class. I remember the names of most of his classmates, who included Francesca Milewski, Lexi Feenstra, Daniel Tricarico, Chester Holtz, Charlotte Minto-Sparks, a girl named Molly. And there was Hugh McGlade.
Chris, wearing a blue sweater with red trim, is sitting to the left of the assistant teacher, Susan Jaffar. In front of him, sitting on the floor with his legs crossed, second from the left, is Hugh McGlade.
Most of these kids went on to complete the primary program at Whitby. After the first year of primary with Anna Sadkin and Kindra Lovejoy, Chris spent his second and third primary years with Michelle Doyle and Nandita Sinha. After he completed the primary program at age five in 2001, we moved from Connecticut to Pennsylvania.
As I said in emails to Michelle and Nandita in December 2013, "during our car trips to and from New England [since we moved to Philadelphia after Chris graduated from primary], we have often stopped by Whitby (even though he was 5 when we left, he still remembers it, including the hill that is no longer there due to the expansion), and a couple of years ago we even had a long talk with Malina Marshall."
Fast forward a few years. Chris graduated from high school in suburban Philadelphia in 2013 and enrolled at the University of Delaware. A dean's list political science student, he has been active in running the Model U.N. program for high-school students, working as a teaching assistant and research assistant in the political-science department, and participating in long-distance races, including his first full marathon last October.
As I said in my note to Michelle and Nandita, "I firmly believe that his success is due in large part to the solid start he got at Whitby all those years ago. And for that, I want to express my deepest thanks. I remember your classroom with great fondness, and am convinced that my son has become the young man because of what he learned from you and the Whitby community."
Now here comes the part about an astounding coincidence. This past summer, Chris worked as a summer intern in the White House in Washington, D.C. He was one of 140 interns selected from some 7,000 applications from around the country. The intern class comprised a mix of college and graduate students, the best and the brightest.
The very first day, as he reported for work at the Old Executive Office Building across the driveway from the West Wing, Chris met a fellow intern, a young man from Emory University in Atlanta. And the name of that young man was Hugh McGlade. From Malina Marshall's Stepping Stones class at Whitby Montessori School all those years ago!
While these boys are a credit to their families and communities, they are also a credit to Whitby. Thanks for a job well done for your part in helping to launch the next generation.
Sincerely yours,
Gary J. Merken