Jennifer Senior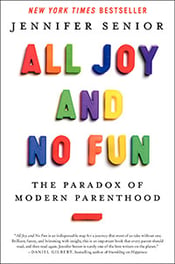 Thousands of books have examined the effects of parents on their children. In All Joy and No Fun: The Paradox of Modern Parenthood, award-winning journalist Jennifer Senior now asks, "What are the effects of children on their parents?"
All Joy and No Fun spent eight weeks on The New York Times Bestseller List and has been translated into eleven languages. Her 2014 TED talk has been viewed nearly 1.5 million times.
Come to this lecture on Wednesday, September 30 at 7pm to learn:
How parenting has changed and why it's more stressful than ever before
Why you shouldn't say, "All I want is for my kid to be happy"

What the biggest mistake parents make when trying to raise happy, confident children
This lecture is open to the public and free to attend. Register now to hear Jennifer speak on September 30, 2015 at Greenwich Library.