It might seem strange to see students spray painting a school wall. It might even seem delinquent, but it's quite the opposite. Instead, the designs added to the second floor wall in Whitby's Caedmon building are the culmination of the 7th grade art unit "Street Art and Change."

Through this unit, students combine the skill and technique of creating a stencil with the social consciousness and global mindedness of artivism, or as Upper School Art Teacher Amy Budzelek puts it, action in art toward a topic or current event that's significant to the artist.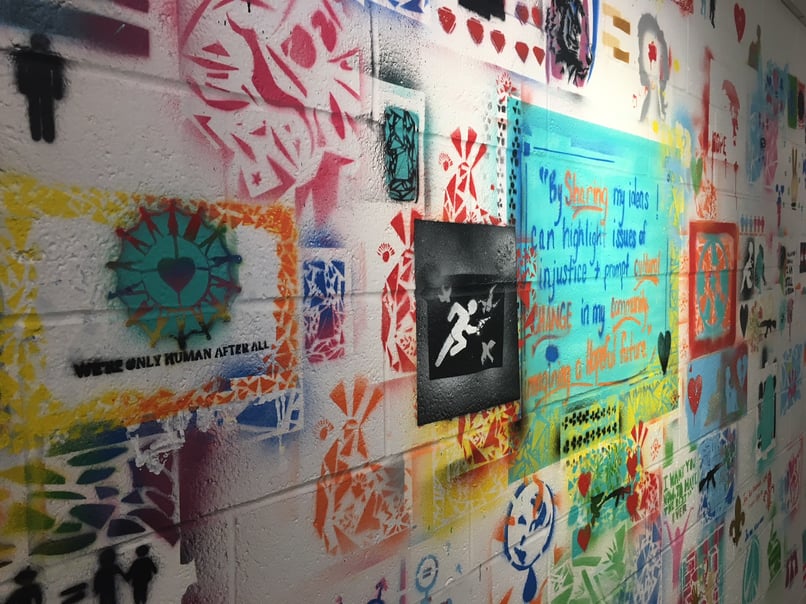 "
I think it's important to create, but it's even more important to create with something behind it. In a world where we're inundated with visuals, I think if you create something with the purpose of impacting or making a change in something, that's when you get something that's incredibly powerful with art
," says Budzelek.
"
So it's not just another pretty picture. It's something that has grit, meaning
,
and purpose in the world.
"
This train of thinking has stayed with Budzelek since her days at the University of Montana. As she remembers the influence her teachers once had on her she's influencing students of her own.
Upper School art students at Whitby begin in fifth grade by thinking about identity. In sixth grade, they focus on telling stories through an interdisciplinary unit with theater. After these formidable years, Budzelek believes students begin to change once they reach seventh grade, and are much more self aware. At the same time, they're developing their fine motor skills, which is a key component for stenciling.
The artwork splashed on the white brick wall teems with cultural issues ranging from LGBTQ concerns to women empowerment. Students in Budzelek's class pick their own topics based on what they've learned in Individuals and Societies class, through their Photovoice projects, and by simply observing the world around them.
"
They hear these things and they need a way to process it and deal with it
," Budzelek says. "This unit is
a good way to bring something up and it's a good way to have conversations.
"
Once students have a topic, they're tasked with finding existing symbols they can combine to create their own original designs. Throughout, they practice their skills using X-acto knives, first starting with freeform movements on easy paper before moving up to geometric forms and more intricate organic forms.
"When it comes down to it, students are already establishing what they think and what they value visually through social media but sometimes they don't realize the messages they're sending," Budzelek says.
One student, whose topic was women empowerment, created a design of a face that was half woman and half lion. The student used a pattern of Lynda Carter as Wonder Woman. For the lion, the student inadvertently used the face of a male lion. It's a change like this that can altar the portrayal of a piece, Budzelek says. In this case, the use of the male lion strengthens the theme of equality and women's rights.
At first glance, it would be easy to say the student work has breathed life onto a once-blank wall because of how colorful it is, but beyond its aesthetics are personal stories and ideas that are driven by the artists to create change.
"
I love that the wall we have has grown so the kids are influenced not only by the street artists we see in Bushwick, the street artists they're introduced in the classroom, but they're also introduced to the street artists of Whitby School
," says Budzelek.