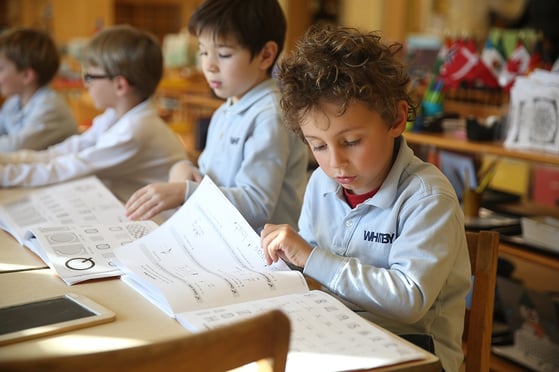 Primary (3 to 6 years)
Here in Primary, our heritage as America's longest continuously running Montessori school is evident the moment you walk into any of the Primary classrooms. From the sandpaper letters to the colorful bead cabinet, the spaces are designed to facilitate exploration, delight the senses, and invite learning. Four units of inquiry extend and enhance the students' exploration of the environment and develop their sense of international-mindedness.
Just like in Stepping Stones, our Primary teachers follow the children as they become actively engaged in the learning process, gaining a deeper sense of pride and ownership for their accomplishments because their work is always meaningful. You'll watch in amazement as your children develop the confidence and independence that will empower them as learners and fuel a curiosity that will last a lifetime.
Everyday Activities
Learn through inquiry, ask questions, think critically, and develop problem-solving skills
Work individually, with a partner, or in small or large groups
Develop a sense of international-mindedness, examine different cultures, and learn from others' perceptions and perspectives
Engage in learning activities in the areas of practical life, sensory development, math, language, art, science, and social studies
Develop social skills through collaborative play, practicing grace and courtesy, and embodying the peace education
Learning Environments
A balance of structure and flexibility allows for the natural development of each child's physical, emotional and cognitive skills.
A beautiful, orderly environment to entice children to learn and to reinforce their innate sense of curiosity
Outdoor space adjoins each classroom, allowing for gross motor development and a natural space for playtime, in addition to a larger common playground space