Middle Elementary students recently finished up their unit on Beliefs and Values under the transdisciplinary theme of Who We Are. The central idea was: Belief and value systems offer explanations about the world around us. The students focused on beliefs and values and how they impact our choices and decisions. In addition, they explored what we value as individuals, families and as a school community. To conclude the unit, students created Values Billboards, which combined a written description of a value that is significant in their life and why it's important to them along with a complementary picture. Below are several Billboards along with a corresponding audio reading of each statement.
Anir on Risk-Taking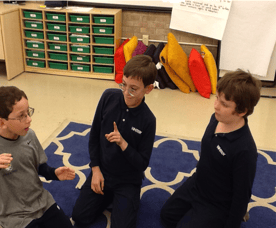 This value is important to me because I need to be a risk-taker every day. Risk-taking means you say something you think other people may not agree with and be brave and say it anyway. Risk-taking is important to me because I value learning what people think and learning from those thoughts.
My value influences me because I need to share my ideas to become a better learner. When we share our ideas we can see if there needs to be a better backup for the reason/reasons the person said.
---
David on Commitment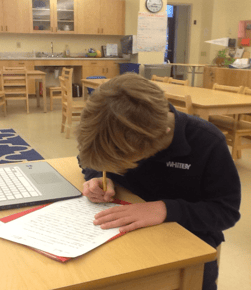 Commitment is an important value, it means to stick with something. Commitment is important to me because it shows me if I put my mind to something anything can be possible. Another reason why commitment is important to me is because it allows me to set goals and not be afraid to try them. One more reason why commitment is important to me is because it gives me a wider option of things I want to do in my life that I not only enjoy but I also am good at.
Commitment influenced me by giving me the opportunity to learn and get good at subjects. One time commitment came into play was when I learned how to solve the Rubik's Cube I was so committed to it that I took a lot time to learn how to solve it. Commitment is a huge part of my life.
View Part 2 and Part 3 of the series.