As we began Spring Break, we asked our staff and faculty the question: As parents and educators, what learning opportunities do children have while they're traveling?
From new vocabulary to opportunities for reflection, our team responded with a number of learning opportunities embedded in travel. Here's what they had to say:
1. Journaling and Documenting
"Keeping a travel journal is a great way to practice writing skills while creating a memory book to cherish. Adding details like describing words and pictures or sketches can help to make this a learning experience as well as a nice keepsake."
– Amanda Lavoie, Lower Elementary Teacher

"Journaling is an amazing habit; photo journaling while traveling is more than just fun, it is a great way to record memories and feelings, and at the same time write. If traveling to a different country where Spanish can be put into action, why not extend and challenge? Speak Spanish, try a new food, describe how it made you feel...and while you are at it, snap a photo of it!"
– Carolina Martino, Lower School Spanish Teacher


"Kids can keep journal entries of the places they visit, things they do, family interactions, etc. Keeping up with writing is such a good skill and our hope is that they think about all of the writing traits we have taught them (organization, conventions, voice and word choice and sentence fluency). Frequent writing also builds stamina. They enjoy sharing what they do over the breaks, so documenting their experiences is a natural extension. Of course they should always read—hopefully for enjoyment!"
– Alexis Ryan, Grade 4 Teacher
"We always encourage students to gather photos or other momentos from places they go to or museums they visit and compile them to share with the class. This helps to practice their communication and presenting skills, and also enables them to share a bit about what they have learned from their experiences. Many of our students like to create mini presentations of all of this information and share it with their classmates."
– Silvia Gentile, Grade 4 Teacher
2. Learning New Words
"Learn a few words in a new language (if traveling to another country) or maybe in a different dialect if in the U.S. Did you know that the word 'bubbler' is/used to be another way to say 'water fountain' in Wisconsin?
– Alicia Miller, English as an Additional Language Teacher
"
For younger children I would say new vocabulary words. In our in-class food tasting each week, kids taste, feel, smell and touch new fruits and vegetables. This is a great activity for discovery outside the classroom as well."
– Linda Troya, Stepping Stones Teacher

3. Opportunities for Reflection and Gaining Perspective
"Gaining perspective from different cultures/environments, being exposed to things they would never have a chance to experience at home. Experiencing things in real life is infinitely more valuable than just reading about them. Seeing the uniqueness of other walks of life, and learning to appreciate the uniqueness of their own society at home."
– Tony Hoang, Veracross Administrator

"Anything emotional or affective related. Reflective of how fortunate students might be for having an opportunity to travel to where they are going. If they are traveling to an area that is of different socio-economical status, it allows an opportunity to be empathic towards the lifestyle these people might have."
– Joe Budzelek, Upper School Math Teacher
"Every aspect of traveling as a family is an opportunity for us to learn something new about ourselves and each other. It might not resemble what we commonly consider academic learning, but in my opinion it is just as significant to my own kids' development as people."
– Michelle Chein, Reading Specialist
4. Learning About Different Cultures
"Traveling is filled with opportunities to be risk-takers! Try something new like a food, activity or language — something that takes them out of their comfort zone and helps them better understand the local culture."
– Sarah Mead, Director of Marketing and Communications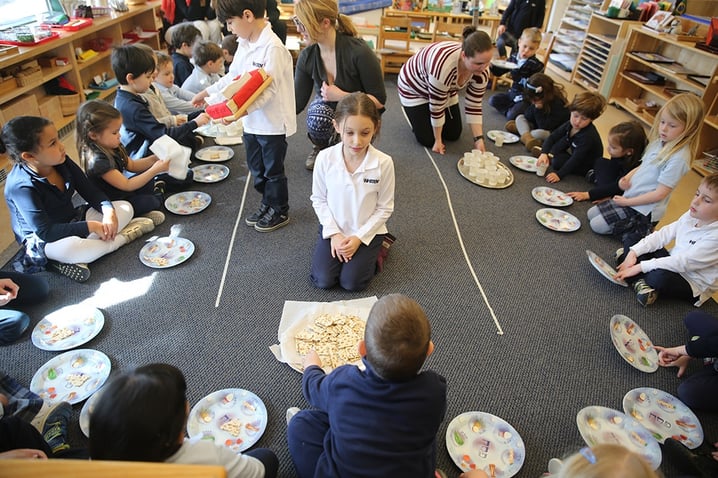 Learn the culture (another country or another part of this country) by taking note of what seems prevalent and important (without making generalizations) For example, what types of restaurants or stores, billboards, advertising, and activities are available/not available? Places of worship? Types of transportation? Hours kept for businesses? Music? Museum? The list is endless!"
– Alicia Miller, English as an Additional Language Teacher
"But by far one of the biggest benefits of travel is that it connects us to the rest of the world. The sooner we can establish that feeling of connection in our children, the better."
– Elizabeth Melucci, Primary Teacher (Read Elizabeth's post about travel here.)
"Whether going to a different part of the country or the world, travelers enjoy the opportunity to experience many aspects of different cultures and to visit sites that were important in the history of human society."
– Andrew Greene, Upper School Individuals and Societies Teacher
"Interact with indigenous people outside of the walls of the resorts. Eat with them. Talk with them. Listen to their stories. Go native for a bit, off the paths of the tourists."
– Chris Ostrowski, Upper School Teacher
"Travel affords us the opportunity to move beyond our comfort zones and explore new lands, peoples, and cultures. By doing so, our actions are stating, 'I'm interested and want to learn.' Through this growth of knowledge and understanding comes empathy for the Other; a trait necessary as the world becomes more isolationistic. So, dust off the passport. Increase the travel budget (decrease the clothes and car budget!). Eat and converse with the locals. Walk. Take public transport. Slow down. And as the North Face says, 'Never stop exploring.'"
– Jamie McQueen, Upper School English Teacher
"Traveling is a great way for students to see up close and experience many of the cultures they learn about through their studies, especially as foreign language learners. Being able to see something you read about in a text, seen in a video, or even by using the language you are learning, students can gain further confidence and create new opportunities for inquiry on the go! "
– Luis Rivera, Upper School Spanish Teacher