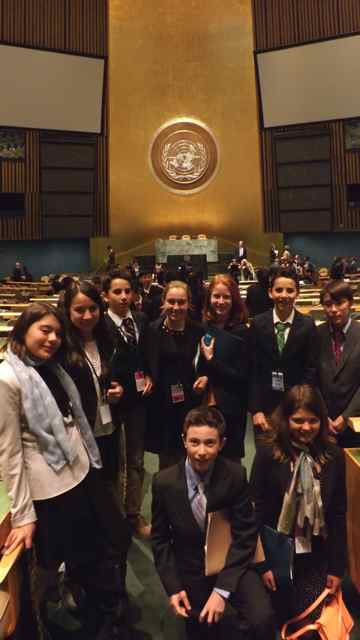 A team of nine 7th graders worked toward fulfilling Whitby's mission to motivate students "to confidently take action as contributing members of a diverse global community" as they became a delegation from the Middle Eastern country of Qatar at the Montessori Model United Nations (MMUN) April 11-13.
The 7th Grade Humanities syllabus includes a unit on Diplomacy, in which students learn about the functioning of international diplomacy, conduct research into current issues that diplomacy has attempted to address and practice the art of diplomacy in classroom simulations. As an extension to our syllabus, Whitby 7th graders were able to put their education to practice at the MMUN.
Student pairs were each assigned to a committee modeled after actual United Nations committees such as the UN Children's Fund (UNICEF), World Health Organization (WHO), Economic and Social Council (ECOSOC), and Special Political and Decolonization Committee (SPECPOL). They worked very hard for the past month, catching time during lunch and at home after school, each researching and developing position papers on a variety of diverse topics:
Girls' Education

Microfinance in Emerging Markets

HIV/AIDS

Reproductive Health

Post-Conflict Reconstruction (Libya)

Children in Armed Conflicts
When they arrived, they were briefed on protocols, and then almost immediately began with speeches and caucusing, collaborating with peers from all over the world to draft, argue for, and, in a culminating event, vote on resolutions in the actual United Nations General Assembly chamber. It proved to be an amazing engagement in empathy, research, documentation, and real-life international diplomacy.
"I think we did well because at Whitby, we learn to be comfortable talking to other people," said one of the students, Sarah. Classmate Siobhan added, "Our English teachers really prepared us well through the essays we've written and speeches we've made. It made it easier for us to draft resolutions." Simon and Caitlin ended up leading their committees and drafted the filnal resolution, despite this being their first year participating in MMUN. The students also talked about their ability to collaborate with others to achieve consensus on issues, something they practice every day, and found that more successful than the more aggressive approach some from other schools took. Faculty advisors Wen Yu Ho and Andrew Greene lauded the students' poise, leadership, collaboration, and spirit, especially given that it was their first year in the program.
Whitby chose to participate in the Montessori Model UN, which emphasizes cooperation and compromise over competition, as it further develops a connected support network, a self-directed discovery model of learning where process is the most important outcome, and a focus on engaging with people from other cultures not just from an academic perspective but on a true interpersonal level.
The team used Twitter to document their experiences; you can see their postings in the sidebar. We invite you to read the Diary from each of their three days below.