"Greenwich has been a fundamental stepping stone in my filmmaking career." says Axuan Vrolijk '04, now living in New York City as a film producer. "It was also my first American experience."
Axuan, born in Guatemala from Dutch parents, better known by Greenwich locals as "Sebie", first moved to Greenwich in the fall of 2001. His father was transferred to New York after dividing their time in Guatemala, Pakistan, and El Savador.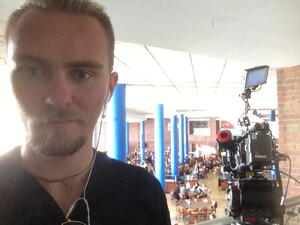 "At first it was tough adjusting to the new country," recalls Axuan. "But it was a chance for my family to live together". Due to the fact that his father works for NGO's and often needs to live and work away from Axuan and his mother.
Before arriving, Axuan's family had reservations for American culture. "I spent my life growing up in developing countries. We were pleased to find Americans, and our fellow Greenwich residents, were very welcoming and friendly".
In no time, Axuan built great friendships at Whitby School. "I was the international black sheep in school. But they accepted me and that was very nice."
It was there, Axuan began discovering his passion for filmmaking. He and his new friends Jack Knoblock, Trevor Wysoki, and Spencer Wiedamann would make short films with their family's camcorder.
"We'd get so excited when the new iMovie introduced a slow-motion effect," Axuan remembers, "We immediately went out and started recreating scenes from our favorite action movies and later add the slow-motion effect to everything…it was quite funny."
At Whitby, Axuan's teachers further helped him explore his passion, allowing him to use his filmmaking skills for class presentations, projects, and even creating little film segments in the schools yearly Shakespeare plays, where in 2004 Filbert, Spencer's longhaired dachshund, debuted on screen as a ferocious lion.
By then Axuan, was hooked on film. The summer after graduating from Whitby, Axuan helped document Chandra Lee Mann's Greenwich Youth Stage summer youth acting camp and their rendition of the musical Bye Bye Birdie. At Greenwich High School, he took film classes with teachers Mr. Detmer & Mr. Chiesa. There he was introduced to film cameras and editing suites.
"It was great! I was getting closer to my filmmaking goals." His teachers encouraged him to submit his work to the Fairfield County Short Film Competition, where he won first place for a short PSA promoting the substitution of junk food for healthy meals.
Unfortunately, Axuan could not anticipate that his time in Greenwich would soon be coming to an end. His family's nomadic life would uproot him again, this time to Thailand. There he spent his last three years of high school in Bangkok.
Greenwich, and the U.S., would never stray far from his thoughts. Axuan was accepted to New York University's prestigious and selective Tisch School of the Arts to study filmmaking. There, he perfected his craft for producing unique and interesting films. He was even lucky to reconnect with old Greenwich friends.
"It was nice living in NYC." Recalls Axuan. "Knowing Greenwich was nearby was a nice grounding feeling I hadn't experienced before. On occasion I would visit my friends and we'd laugh about the silly movies we used to make when we were kids."
After graduating from NYU, Axuan quickly dove into work, producing and coordinating independent films such as The House That Jack Built (2013), and working on larger features like John Turturro's Fading Gigolo (2013) with Woody Allen and a new untitled Mark Lawrence project with Hugh Grant and Marisa Tomei.
"It's exciting to be a part of something big. I've been working towards this opportunity ever since I was little running around Greenwich with a handicam." Axuan says with an ear to ear smile. "This time we'll leave out the slow-motion effect."
But Axuan isn't done yet. In addition to having big feature producer plans, he is also currently the head of production at Symbol Film (www.symbolfilm.com), a new media, and new distribution company that relies on the development of free media creation and distribution. "Usually when we tell people this, they look at us like we are crazy." He laughs. "We're not." He and colleague Alexander Toporowicz are currently developing an independent feature involving three unlikely relationships set to a gritty New York City street art backdrop. "It's a powerful story that crosses generations," Says Axuan. "We are very excited."
Despite Axuan's transient time in Greenwich, it is clear this small town made big impressions in shaping Axuan's life. "I owe a big thanks to my friends and teachers at Whitby and Greenwich. Without their guidance and support, I wouldn't be involved in such cool projects and doing what I love."
- Written for Whitby School by Audrey Appleby