"There's a spirit of togetherness and community that permeates our school," says Chris Ostrowski, Whitby School's Community Service Coordinator.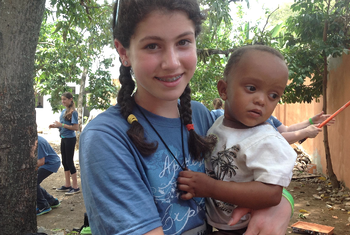 Whitby's Community Service Program is based on the idea that students who dedicate time to serve others both inside and outside the school community will expand their perspectives on the world. Whitby School's mission is to inspire a passion for learning and empower each child to take responsibility as an open-minded, principled citizen in a global community. With this mission in mind, Whitby's Community Service program enables students to develop empathy, humility and leadership skills, and come to understand that through their individual actions they can positively impact the lives of others.
Students in Grades 7 and 8 begin their year by meeting representatives from local organizations, including Adopt a Dog, American Red Cross, Boys and Girls Club of Greenwich, Bruce Museum, Domus, Family Centers, Greenwich United Way, Nathaniel Witherell, Neighbors Link, SoundWaters and Special Olympics. Students are assigned to organizations according to their interests.
Throughout the year, students maintain online blogs to chronicle their experiences, and take responsibility to schedule their 15 volunteer hours outside of school. The program ends with a Community Partners Luncheon in May where students reflect on their impactful experiences, and as part of the continuum, Grade 6 students are introduced to the partners in preparation for their service the following year.
"Throughout this experience I have met a lot of very inspirational people. Varying in age, they have all inspired me to chase my dreams and never give up no matter what obstacles I have been given to face," says Whitby graduate Siobhan in response to her volunteer experience with Neighbors Link and Special Olympics.
Whitby students help others outside their own classrooms on a regular basis. During Whitby's Grade 6 Buddy Program, students visit preschool classrooms monthly to help with reading and other classroom activities. This year, Grade 5 is teaching Grades 1 and 2 about composting, and in exchange, the younger students will share their lessons with the Grade 5 class. Grade 8 is assigned one or two fifth graders to mentor during their transition to the Upper School.
Whitby students come from 40 different countries with families speaking more than 30 languages, an environment that helps children to see the world through a multitude of perspectives throughout their educational journey. Upper School students had a great lesson in perspective and community when traveling for eight days in the Dominican Republic last June, just weeks before graduation. Central to this trip were the two days students spent teaching English as a second language to refugees, and their time spent helping at an orphanage.
When reflecting on the trip, a Whitby graduate expressed the impact of the disparity between him and the children. Seeing how desperately these children needed safety, security and education changed his outlook on material possessions. "Realizing we have so much [electronics, toys, clothes, trips], but we want more…and they have nothing and don't need 'more'. Our 'more' isn't the same."
The ability to recognize and empathize with different perspectives is the result of the hands-on, integrated community building that students experience throughout the continuum. In this way, Whitby prepares students and graduates to be open-minded, caring and balanced individuals who will positively impact the lives of others in the future.
Learn more about Whitby's Community Service Program.
With 440 students and a 5:1 student-teacher ratio, Whitby is a coed independent school on a beautiful, 25-acre campus at 969 Lake Avenue in Greenwich. The next Open House is scheduled for Sunday, November 2 at 1:00pm. To experience Whitby's community first hand, please register online at www.whitbyschool.org/community or schedule a personal tour by calling 203-302-3900.