Whitby is making strides to provide students with computational thinking and design skills through a variety of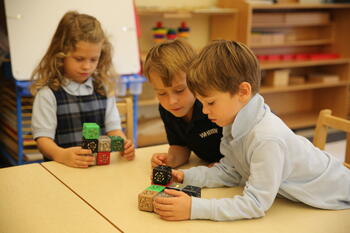 developmentally appropriate robotics and programming resources. At Whitby, applying inquiry-based learning and innovation in technology to the continuum of student education is of the utmost importance. While Whitby's Montessori (early years) and International Baccalaureate (IB) program recognizes the importance of the physical environment in learning, the school also believes that technology can positively influence and improve learning for children even when introduced at an early age.
By providing cutting-edge resources and specialized guidance to students of all ages, Whitby fosters an environment where children are encouraged to build their own skill sets and understand how these concepts apply across learning disciplines and real life situations.
In Children's House, students 18 months to 5 years have already begun experimenting with Cubelets, sets of toys that simplify the idea of motorized functions in robot construction.
Starting in Grade 1, students utilize Scratch Jr., a programming application that allows students to create interactive games, stories, and animations. Moving on, students in Grades 3 and 4 graduate to Scratch, more advanced software that delves deeper into coding and programming. Simultaneously, students begin applying logic to construction when using LittleBits, small magnetic pieces that can be combined to create functional circuits.
An emphasis on design thinking is key to Whitby's transdisciplinary curriculum. Whitby's state-of–the-art Design Tech Lab enables students Grades 5 and above in particular to work on robotics, multi-media, programming and design. They simultaneously learn about the systems and relationships involved in taking an idea through the design cycle from thought and prototype, to product and evaluation. They also have the opportunity to participate in Whitby's popular cocurricular program, LEGO Robotics, which challenges students to apply their growing knowledge of programming and programing in a competition format, determining solutions to real life situations.
In Grade 5, students are encouraged to further their programming and mathematical skills through videos and resources available online. They take advantage of Khan Academy and other resources outside of the classroom in order to allow more time for skillful application during the day.
Grade 7 students will also have the opportunity to work with SeaPerch, an innovative underwater robotics program that incorporates science, math and engineering.
Whitby's commitment to the continuum of innovation is further reinforced by the implementation of Genius Hour, now being piloted in Grades 3 and 4. Students are given the opportunity to research, tinker, and create personally meaningful projects. The groups meet weekly, track their research and discoveries and present their finished products to the school community.
This year's self-selected projects include explorations in 3D printing, computer building, movie making and robot construction with Cubelets. Teacher Alyssa Smith sees this initiative as a wonderful opportunity for children with common curiosities and interests to form teams and work together on self-motivated projects. "With support in place, kids are put in charge of prioritizing their own work, setting goals for themselves, managing their time, working through problems, synthesizing and organizing the information they've gathered," Smith says.
With 440 students and a 5:1 student-teacher ratio, the coed independent school sits on a beautiful, 25-acre campus at 969 Lake Avenue in Greenwich. To experience Whitby's innovation first hand, please register for the November 2 Open House at www.whitbyschool.org/innovate or call 203-302-3900 to schedule a personal tour.