Bilden with student at Urinetown

"Confrontation"

Amy and Emilio, a young student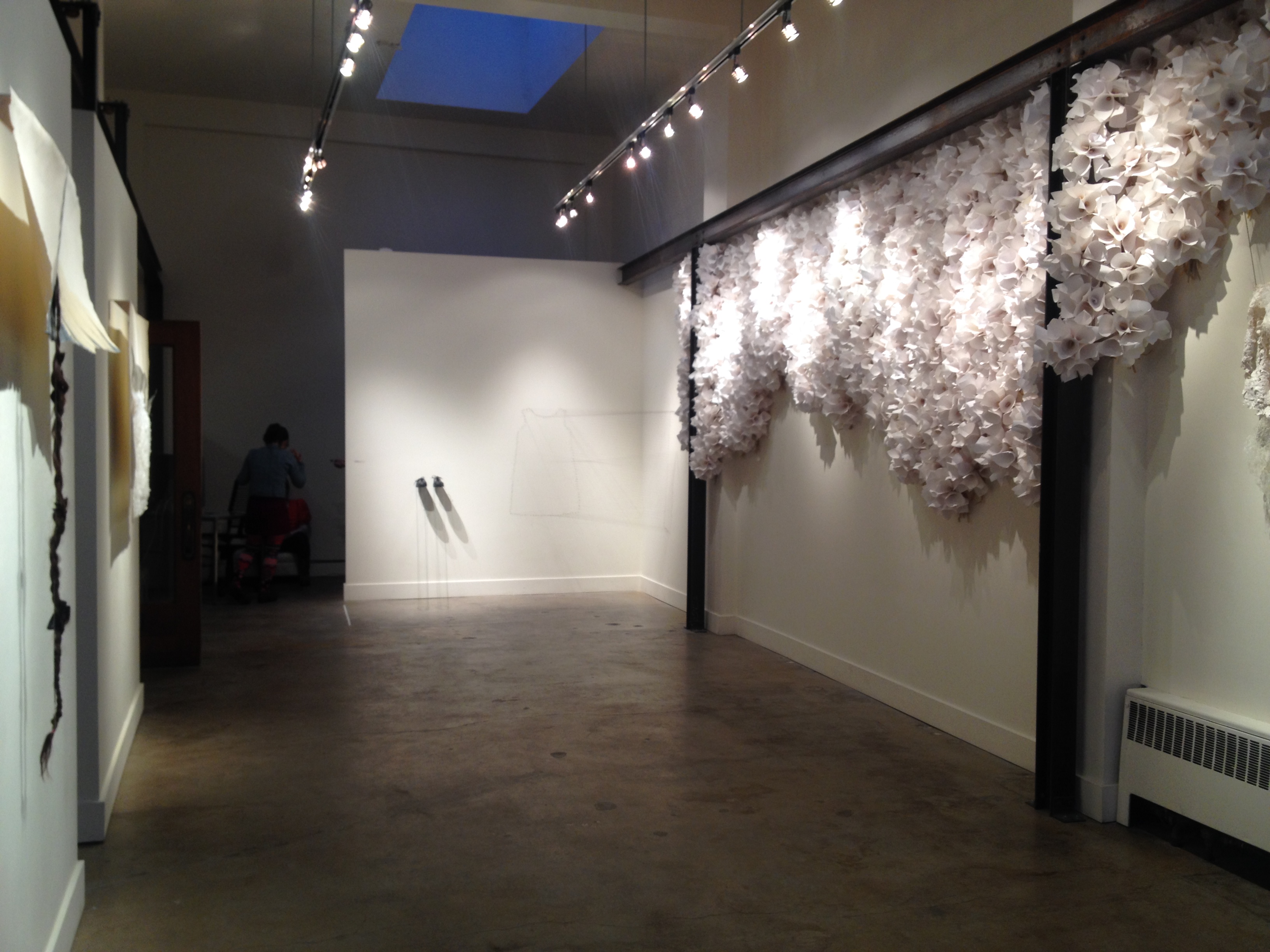 The Exhibit "Consequence"

"Veil"

"Thread"

"Veil (for Alissa)"

"Rope"
"Bouquet"

"Veil (for Andrea)"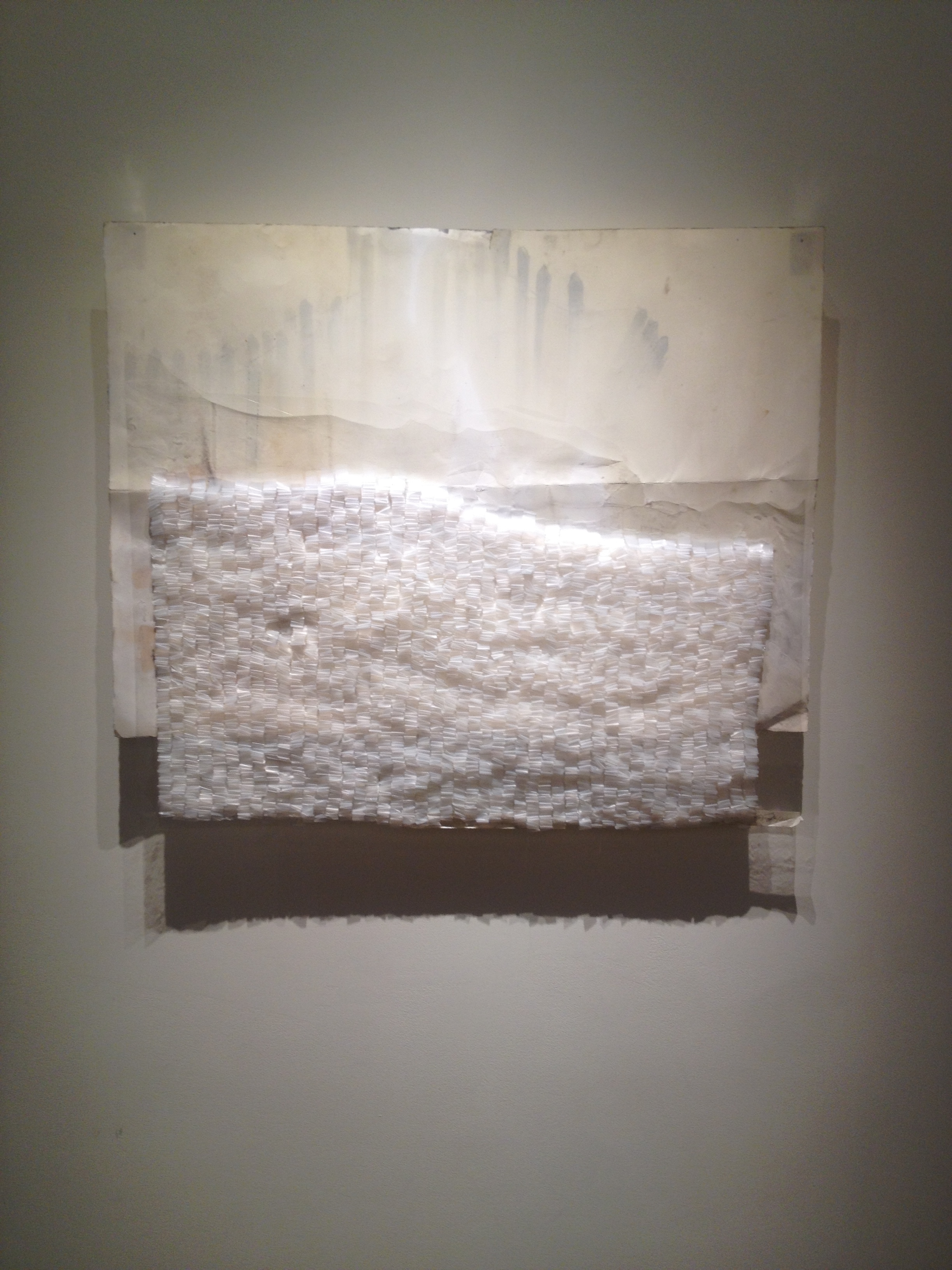 "White Elephant Hills"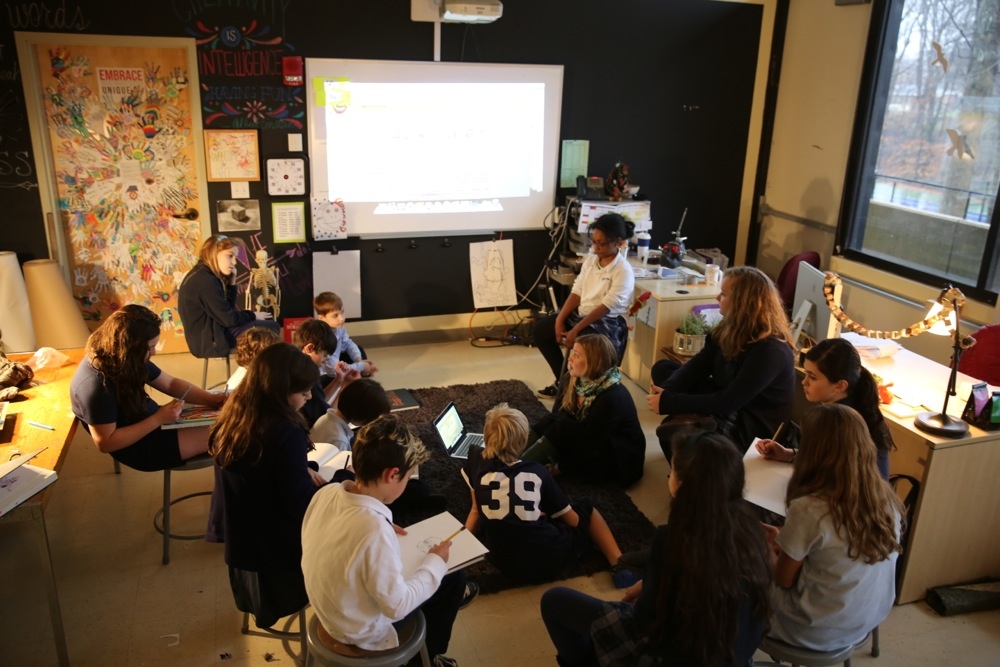 Bilden sharing her experience

Bilden sharing her experience
On the second floor of the PAC, Amy Bilden stretched large sheets of plastic canvas on the ground to create an art installation to coincide with the upcoming Upper School musical production of Urinetown. The sheets ran the entire hallway, and there, on her hands and knees, Bilden worked as students would enter and exit classrooms--some stepping over, some stepping onto the sheet. When a student asked what she was doing (and many did) she politely would look up and give them a full and thoughtful answer, and then quietly return to the plastic sheets, as if finding a familiar rhythm.
Many teachers and laypeople are often required to do a task that involves repetition or are done out of necessity. One could get a clear sense of how Amy Bilden, artist and art teacher at Whitby, approaches her work--elevated with focus, finding expression in monotony and nuanced tones in echoes. Whether as the Art Curator for the Upper School production of Urinetown ("as curator, I am interested in how our own visual icons can reflect complex ideas and values") or a featured artist as a fellowship recipient at a recent exhibition ("That's Life") in Hartford at the Gallery at Constitution Plaza with her works titled For Annabelle and Mending Broken Limbs ("I use monotonous processes to connect internal and external landscapes, building tactile and visceral maps of emotional and physical space.") Amy is an example of why Whitby's faculty and staff are so valuable.
"What's key," said Head of School, Bryan Nixon at the State of the School meeting in late October, "is that we need to have people who are committed who have a passion for learning in their own lives, not just in the lives of your children."
At Whitby, this is achieved by prioritizing the Professional Development program, making it an attractive launching pad of opportunities for staff and faculty. "Employees are encouraged to involve themselves in outside training and continue along their educational paths so that as a community of learners, we can continue to evolve.", says Kristen Kaessler, Human Resources Manager at Whitby. "Fully embracing the Professional Development (PD) program illustrates a commitment to Whitby's vision statement, which expresses a desire to 'be the school of choice' offering a compelling educational continuum, recognized for excellence and for embracing innovation.
Many PD opportunities present themselves as workshops, courses or conferences. But, as Bryan Nixon mentioned in his State of the School presentation, "It doesn't mean you have to always go to workshops and things because we have a lot of expertise in-house." For Bilden, she was able to take a great experience and dovetail it with a PD opportunity. Last week, Amy Bilden opened an art show at the Brink Gallery in downtown Missoula, Montana.
"To be able to go to an opening of one of my shows is phenomenal. Not only is it great as an artist, but it really informs me as a teacher. What I learn from the entire process I am able to share with our students." While she was in Missoula, she also visited an IB school. "Through the visit I was able to meet with artists I respect and mentors who I admire including Patrick Zentz, MaryAnn Bonjorni, Beth Lo, and Kate Hunt. I would love to continue to develop those relationships and have been considering the possibility of bringing artists to our school for our students to also experience." For the trip, Amy missed two days of school--but the support and reinforcement of Whitby's mission to continue investing in its staff and faculty--smoothed out any potential bumps that may occur during a teacher's absence. "The entire experience was part of my professional development. From the moment I took a risk and sent my boxes of artwork, to the point when I shared the experience with my students upon return."
This was the second time Amy's work was shown at the Brink Gallery. The show (which runs through December 27, in case you're headed out to Montana) is titled: Consequence. Amy describes it in her artist statement:
"Inheritance of emotional significance, rather than monetary value prompt the artwork of Consequence. Intentionally marking significant thresholds in my own life through creating specific works of art. Each piece begins with a transitional event and materializes through process. In several works the installation is significant as the inherited materials are slowly depleted.
This body of work is my own reconciliation of the passing of a matriarch, child rearing, and questioning my assembled expectations of womanhood."
It is with this example of depth of passion and commitment that the faculty and staff continue to explore their personal expertise. The PD program allows for an infusion of time, funds, information and experience that leads to sharing and contributing to the strength of the school--the people within it.
"...What's very important to me is my continued learning" commented Bryan Nixon when asked about teacher retention at the State of the School presentation, "and it's very important to the staff and faculty who commit to Whitby. Not only do we have staff continuing their learning but also taking risks in their classes, that's what's critically important, and that's how we like to apply the Professional Development budget...These are the things we're excited about."
It is an excitement shared throughout the Whitby community.
"The greatest gift (from the PD experience)," reflects Bilden, "was the position of vulnerability that I placed myself in, and by doing that I was able to make meaningful connections and conversations with others and invest in possibility."
To view Amy Bilden's exhibit at the Brink Gallery, click here. For other Amy Bilden work, please visit her website.