In my last blog post I wrote about the power of student collaboration and ways we as teachers can encourage these interactions within classrooms. But to truly inspire a passion for learning, collaboration should happen at home and at school.
So how can parents harness the power of collaboration at home?
For starters, take advantage of siblings, neighbors, and friends. As kids play together, they naturally fall into a collaborative rhythm. Depending upon how old your children are, they may love the idea of collaborative challenges. Have your kids try some of these on for size:
Invent a new and delicious healthy snack using the ingredients in our kitchen.
Using this plastic cutlery left over from your brother's birthday party, try building the highest tower you can.
Think of a "kid problem" that you can solve today.
Design an obstacle course in our backyard.
Create an educational video starring you.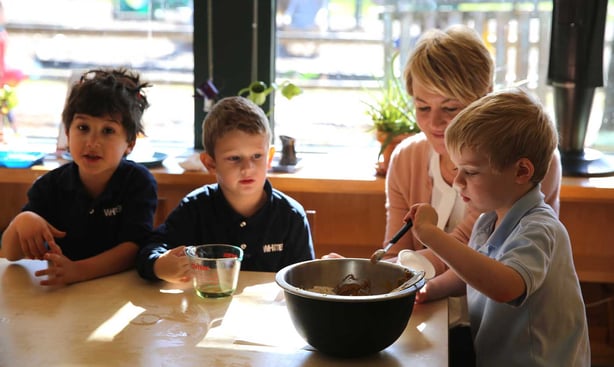 Another simple idea to encourage collaboration is to invite your children to help you problem solve. Does your child forget to do his or her homework frequently? Or perhaps you're waging a bedtime battle. Wait for a time when you're all "cooled off" and ask your child to share his or her ideas for how to solve the problem. Think aloud about the positive aspects and potential challenges of the ideas presented.
Put forth some of your own ideas and ask your child to give you feedback, too. Show your child that you're partners in finding solutions to family problems; they'll feel more confident and at the same time develop a greater sense of responsibility.
Be on the lookout for collaborative opportunities at home, and you'll nurture your child's love of discovery and learning.