"Reading should not be presented to children as a chore or duty. It should be offered to them as a precious gift." — Kate DiCamillo
Yes! What a precious gift reading is. As adults we connect with this quote and applaud author DiCamillo's brilliance. Finding time in our busy lives to read is no easy feat. However, not all students share the same love or desire to read habitually which is one of many reasons summer reading is important. While the warm weather and summer days begin to leave us as the school year gets into full gear, the effects of summer reading can stay with a child for a lifetime.

Yes, we want students to keep exercising their reading muscle throughout the summer so atrophy doesn't set in making for a challenging re-entry in the fall. Yes, we want them to continue to build their vocabulary and consider new words in context; and yes, we want them constantly thinking and wondering, and learning through books, but what we really want from summer reading is for them to feel the sense of joy in reading.

Summer is the perfect time for readers as it provides time and space for students to read for the sole purpose of reading itself. They have choices in what they want to read and they're not asked to write a piece discussing a book nor do they need to present a formal analysis.

It's this time in the calendar year they can read authentically, for the sake of reading like we adults do throughout the year. The fact that summer reading permits student choice in books promotes deeper conversation, empowers students and helps to build an authentic reading community – when students come to the discussion with a book they chose, investment and interest increase!

Another important goal is to use these books to inspire school community. Throughout the year book groups are abundant in English classes; realizing the success of book groups at individual grade levels we hoped to continue that activity on a bigger scale by including all Upper School grade levels to participate. Having fifth, sixth, seventh and eighth grade students along with faculty sit together sharing in a common conversation around a book creates a special energy.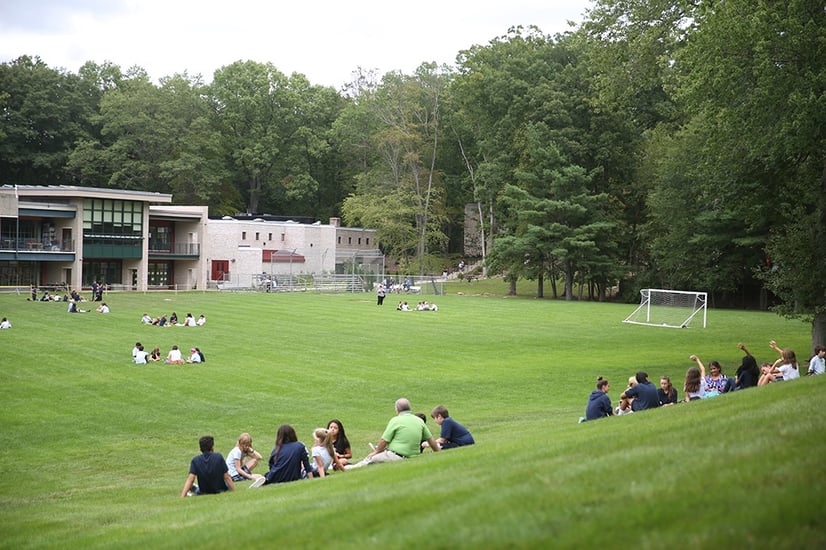 Students and teachers gathered in multiage groups for an Upper School Community Read. View more photos on Facebook.
This year our Community Read gathering elevated to a new level as many eighth graders volunteered to run book groups, the first time they have stepped up to this leadership role.

Mother Nature also cooperated allowing us to use the verdant lawn behind the school to spread out and enjoy new friends and rich conversation surrounding the three titles: A Long Walk to Water, Linda Sue Park; Pax, Sara Pennypacker; and Crossover, Kwame Alexander.

Anyone who has been in a book group can attest to the joy of being part of a reading community where various voices and age groups come together to investigate, debate, discuss and share thoughts. We hope that through this program our students begin to understand and appreciate DiCamillo's sentiments and consider their summer reading as she does: a true precious gift.