Choosing the right school for your child is an important process for parents, and it can sometimes feel a bit overwhelming. It's vitally important to find a school that prepares your child with the information and tools they need to succeed in a fast-paced world, but how do you know which school is the right one for your family?
As you consider the school options available, asking the following questions is an excellent start for collecting the information you need to make a well-informed decision for your child's future.
1. How does your school differentiate learning?
In most schools, children are sorted into grades by age. In these age-based groups, the expectation is to learn the same material in the same way. However, research has shown that students learn best in smaller group sizes based on their abilities. A student may join a class group with classmates who excel in math, and the same student may be in another group working on improving literacy skills. The movement among groups is fluid based on the student's needs and the teacher's ongoing assessments and observations. Every child has access to enrichment opportunities and support if they need it.
2. Is your school student-centered or teacher-centered?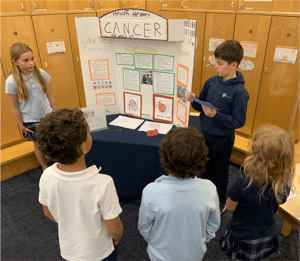 Teacher-centered schools rely on teachers relaying prescribed information and students receiving it, then demonstrating what they have learned via an assessment. At a student-centered school, students' questions and interests drive their learning; they have a voice and get to explore topics in ways that ignite their curiosity.
3. How does your school create community?
Will the schools you're considering allow your child to connect with other students beyond their classroom? Building relationships among students across grades is important to their social-emotional well-being and creates a sense of belonging in their school community. It allows older students the chance to develop as role models and leaders. Building community in a school can also be achieved through intentional opportunities for parent and family involvement; students will thrive when their home and learning environments are strongly connected.
4. How does your school give students a global perspective?
Children who learn about topics through a global lens will become better citizens of their communities, country, and world. When students get the chance to learn about global issues, solve real-world problems, and think critically, they know much earlier than most traditional students about how to be responsible global citizens. This prepares them to be thriving, innovative members of inclusive and diverse communities in higher education and their future work environments.
5. Is language instruction offered?
Many schools offer language instruction, but the quantity and quality of instruction may vary. You will want to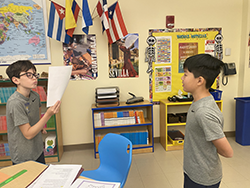 know at what grade level language is offered, how often instruction is provided, and if proficiency levels are used to gauge your child's level of language acquisition. Furthermore, you will want to ask if more than one language is available. Schools have begun to move into a language-immersive style in which students develop an awareness and confidence in language production. This type of learning allows students to obtain meaningful life and linguistic skills at a younger age vs. traditional rote memory and repetition techniques.
6. How are students assessed?
Many traditional schools follow a "cram for the test" approach across subject matters; other schools follow methods that prioritize the individual student's comprehension and view assessment as ongoing and integral to the daily learning process. When assessment is done frequently and through methods that allow the student to demonstrate the principles they learned instead of only writing answers on paper, it will enable teachers to know what the students genuinely comprehend and determine if enrichment or acceleration opportunities are right for that individual student.
7. How does your school view the role of community service?
Community service can be among the most impactful ways young students learn and grow. They get opportunities to develop empathy and compassion for others, experience real-world issues and challenges first-hand, and, most importantly, get to be part of the solution. Building these skills early in life shapes students' success in high school, college, and beyond. Ask about how the school supports community service and whether the initiatives are student-directed or adult-directed.
8. How do middle school students develop leadership skills?
Many schools treat the middle school grades as "waiting rooms" for high school. While middle school students don't typically require as much hands-on support as younger students, they also aren't frequently given the level of independence and authority in their education that high schoolers receive. This can be a missed opportunity, as students at this age have great potential to start developing leadership skills. Ask about specific leadership programs and opportunities for your middle school student so they can begin to take ownership of their learning.
9. How do you prepare students for secondary school success?
This question is a common concern for many parents: Will my child be well-prepared to succeed in high school? Preparation for high school is a process that starts when a child first starts school. Each year, a school should provide cumulative skill-building opportunities so each child will be equipped with the right tools and knowledge when they graduate from a K-8 school or transition to high school in a K-12 school
Students are best prepared when a strong middle school program is staffed by faculty experienced in teaching middle schoolers that combines challenging academics with the social-emotional support students need.
Applying to private day and boarding schools can be overwhelming. Ask if the school has a formal program that educates and prepares students and parents for the application process. Also, ask about recent high school matriculations.
10. How do you ensure your students are safe and secure while at school?
This is one of the most important and heavy questions facing parents today. A modern-day school should be equipped with locked doors that require keyed entry, a campus-wide video security system, faculty and staff IDs worn at all times, and teachers regularly trained in safety practices.
---
Choosing the right school for your family and your child is not easy. Let us help guide you and answer any questions you may have. We hope you will consider Whitby. Contact us at admissions@whitbyschool.org or visit www.whitbyschool.org/private-school-admissions.