Whitby's Mission: Whitby inspires a passion for learning and empowers each child to take responsibility as an open-minded, principled citizen in a global community.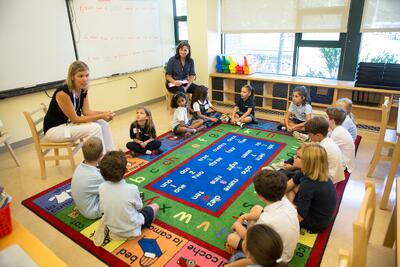 Through our new mission statement Whitby commits to be a school that inspires a passion for learning. So while I was visiting classrooms in the Lower School this week I was looking for evidence of that love for learning. I looked for students and teachers who are making deep and meaningful connections between the classroom engagements and their own lives. I looked for the inspirational aspect of teaching and learning, for students who are nurtured, motivated and mentored. I looked for students who engage with others in making sense of the world around them, students who pose questions rather than answering them and teachers who are engaged in reflective thinking about their own practice. And I found it everywhere I looked.
In Middle Elementary (ME) guest speakers came to the classrooms last week to speak with students about their personal migration stories, and gave them an opportunity to ask questions and make connections. Mr. Nixon shared with students that his family had 6 months to prepare for their move from Germany to Greenwich. The average time a refugee family has to pack their belongings is 15 minutes. What would you pack in 15 minutes?
Other questions that were pondered by ME students after meeting our guest speakers:
How would your perceive a zoo if you have lived all your life with wild animals in your backyard in Kenya?

Do you miss beans on toast, marmite, bangers and mash and mushy peas?

How do immigrants feel if they have to leave family members behind?
Presenters in ME are always met with a high level of engagement and interest from classes of inquisitive and attentive students.
Our Lower Elementary (LE) students went on a field trip to Cos Cob this week to explore how communities are organized. They visited the firehouse and a local bank and had a stroll around in the neighborhood - noticing the library, local shops, restaurants and the post office. During their visit the children not only learned about the organization of a community, but they also found out how the teller uses a machine to counts $1,000 in $50 notes, how a checkbook works, and had a glimpse into the vault. They observed the firemen responding to an alarm and compared the sizes of their own bedrooms to those in the firehouse.
In Primary and Stepping Stones, teachers nurture our youngest students in their transitions to school, lovingly support the older ones to engage with activities, and help all their students to make good social and academic choices at school.
At Whitby, teachers nurture a passion for learning by building strong relationships with and among their students and our community. They inspire lifelong learning by committing to understand each student holistically, not only as an intellectual being, but as an emotional and social one. Igniting the spark that leads to lifelong learning happens when we devote attention to nurturing, mentoring and motivating the whole child, and when teachers, peers and members of the community take time to build relationships, model curiosity and allow students to experience that their learning is relevant and significant in the real world.
Rita Pierson, a lifelong teacher who left us too early in 2013, put it this way: "Every child deserves a champion — an adult who will never give up on them, who understands the power of connection, and insists that they become the best that they can possibly be."
I believe that we are lucky enough here at Whitby to say that there is more than one adult in the life of each and every one of our students who understands the power of relationships.
Listen to Rita Pierson's inspiring Ted Talk.