At Whitby we believe extra activities for school students are a means to enhance social interaction, leadership, healthy recreation, self-discipline and self-confidence. Embedded throughout these activities are the core elements of the Learner Profile. The cocurricular program continues to grow in both parental interest and student participation, reflecting another 20% increase year-on-year. The Fall semester across the School has yielded 1,120 registrations, with 50% of these directly related to WECCP (Whitby Enrichment and Co-Curricular Program for the Lower School). As Whitby's mission evolves, so too has the cocurricular program - embracing more opportunity for students to pursue their interests or try new activities while engaging in peer collaboration and developing thinking skills.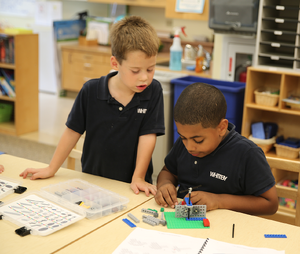 Visit the Lego Robotics class on Tuesdays and you'll see 15 Grades 3 and 4 students discussing ways to solve problems set by the instructors thus promoting thinking and open-mindeness. Walk into the various multi-level chess classes where some of the very youngest students in the school are taking risks with this new game. Digital Animation injects life into a storyboard, where a group of 1st through 4th grade students are collaborating on a project where they have decided what pieces to animate and shoot video, before bringing the parts together as one final piece of animation. On Fridays, 70 1st through 4th graders participate in soccer. For some, this is their very first time of being in an organized and coached environment.
Hopefully the range of activities provides something for everyone and the Winter session will be offering some new STEM related activities such as MakerBot, LEGO Mindstorms, Minecraft, Solar Powered Robots and Design and Build, in addition to a 1st through 4th grade basketball program which will be held on Fridays in separate grade groupings.
The value in a school's ccurricular program cannot be underestimated both for the tangible benefits of higher grades and student attendance. Perhaps of greater importance are the intangible benefits of character development, social and emotional growth, problem-solving, negotiating and perseverance with which the "non-graded, no homework" nature that co-curricular programs provides. A short article from the ASCD succinctly points out the value of these programs.