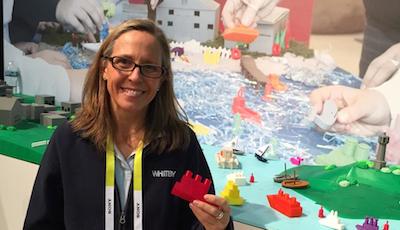 On January 6, Whitby School's Design Technology/Curriculum Leader Leslie Perry participated in a 3D printing panel discussion at the 2015 International Consumer Electronics Show (CES) in Las Vegas. Jenny Lawton, CEO of Makerbot, moderated this very special panel discussion.
Other panelists included Natarajan Venkatakrishnan, Director of GE FirstBuild, Brad Peebler, President of The Americas, The Foundry, Mo Irfan, Director of Industrial Design, Hoover Floor Care, and Daniel Vissac, Innovator/Industrial Designer for Pets, Home Office, Crafts & MakerBot partnership at Martha Stewart Living Omnimedia.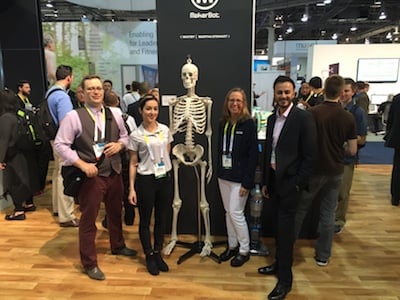 Panelists at 2015 CES Expo.
The first printed object Leslie Perry sent through the Whitby MakerBot 3D printer last year has come to inadvertently symbolize the school's current position as a leader in design technology. "The first thing I printed was a Whitby keychain" remembers, Perry. It is an exciting and fortuitous threshold whereupon Whitby now stands—one that is among those unlocking and contributing new design technology curriculum to the educational landscape. "This wouldn't happen if we didn't have the support that we do from Whitby, the administration and the faculty and staff" says, Perry.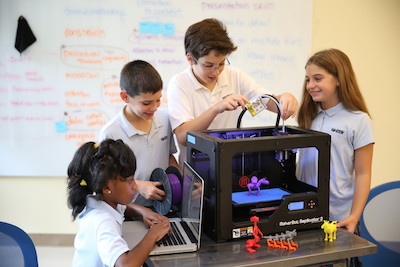 Taking the possession of a 3D printer can be overwhelming at first. Perry says that the base function of printing something in 3D can be exciting and a motivator in the beginning, but then, she saw additional applications. She and those at Whitby, wanted to go further to see what could be learned with, and not just printed from, these printers.
The 3D Land unit of study in Perry's design curriculum led to the (3D printed) construction of the Whitby Harbor (versions 1.0, 2.0 and 3.0 – the version featured at the 2015 CES Expo in Las Vegas last week) began with the simple assignment to design and create a boat. "With every student creating a boat," says Perry, "we realized that we could put all these boats in a harbor…and from there it just grew."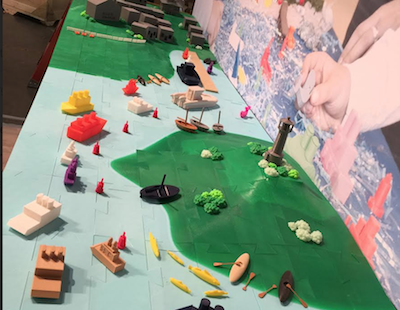 3D Land is a unit that requires collaboration, communication and teamwork.
"At the expo, people from all over the world would come up to the display [Whitby Harbor] and when they found out that it was 'printed' by students in Grade 5 – they couldn't believe it. They were so impressed."
--
The current project Leslie is working on with students is called "Bobsled." The students will design and print small scale bobsleds and study aerodynamics, physics and analytics as they attempt to replicate the bobsled run in Lake Placid, NY.
"I've written for the plans and specs for the dimensions of the Mt. Van Hoevenberg Olympic Bobsled Run. I want it to be an exact replica."
After talking to designers, educators, scientists, and engineers, among others from all over the world during her CES Expo immersion, Perry may have a tired voice, but she shows no sign of kicking back. Leslie realizes her important role of bridging the gap between this new technology and the implementation of this technology from an educational standpoint. While delivering a workshop earlier this year on teaching methods of 3D printing in October, Leslie became aware that she was one of the few educators approaching the use of these printers with a specific and dedicated curriculum in mind.
She continues to design curriculum that exploits the potential of these printers and technology's role in education. In the future, she hopes to spearhead a move to gather a group of academic institutions in the area to invest in a MakerBot innovation center—a bank of 30-100 printers that can be accessed by "member" schools for larger scale productions.
"There are so many ideas, so many designs…right now, it's like this" she says, holding up her cell phone, "let's think of ideas and a hundred of us will share this one phone. Just think of all we could learn and explore with that [the MakerBot innovation center] kind of resource."
She looks out the window where small icy flakes begin to swirl and fall, and then turns back.
"I kind of 'stepped in' to a place that's really at the forefront. Whitby is at the forefront…it's pretty cool, right?"
It is cool—and if it wasn't, there's bound to be some extra printed snow from project bobsled to set the temperature just right.