Ingredients
1.5 lbs (2 medium) russet potatoes, peeled
0.75 lbs (1 large) onion, peeled
1 egg, beaten (or flax egg)
2 tbsp whole wheat flour
¾ tsp kosher sea salt
½ cup avocado oil (or other high-heat oil), divided
Grate potato and onion with the medium side of the box grater.

Squeeze grated potato and onion over a mesh strainer, removing as much water as possible.

Add shredded potato and onion, egg, flour, and salt to a mixing bowl, and mix until all ingredients are evenly combined.

Heat ¼ cup oil in a large non-stick pan over medium flame. The oil is ready when a drop of water sizzles in the pan. Spoon latke batter into pan using a serving (not measuring) tablespoon. Flatten latkes with spatula. Cook 2-3 minutes on each side, until crispy. Repeat for second batch.

Serve with applesauce and/or sour cream.
Sustainability Tip:
Try repurposing leftover latkes as hash browns on an egg sandwich. Reheat latke in the toaster oven on 350°F for 8-10 minutes until heated through. Layer spinach, fried egg, latke, avocado and tomato on an english muffin spread with your favorite mayo or aioli. You'll be kvelling!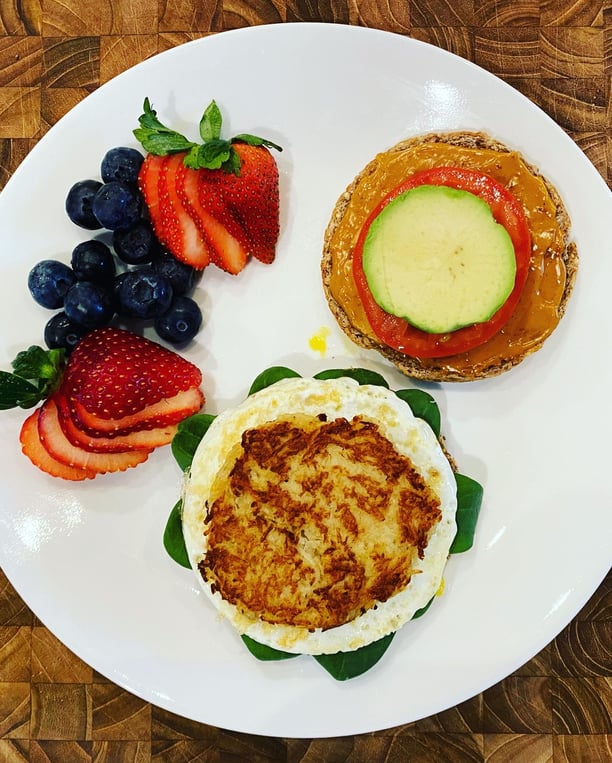 Preheat oven to 350°F and line baking sheet with parchment paper.*

In a medium mixing bowl, combine sunflower seed butter and maple syrup. Stir with a large baking spatula until smooth and thoroughly combined. Sprinkle in baking soda, salt, and coconut sugar, and mix. Add rolled oats, chia seeds, pistachios, and dried cherries, and stir until ingredients are evenly distributed.

Scoop batter into a greased ¼ cup measuring cup and then transfer to baking sheet. Flatten cookie with spatula. Repeat for remaining cookies. The cookies will not spread much, so all 12 cookies should fit on one baking sheet.

Bake for 15-18 minutes, until edges are golden brown and tops are firm. Let cookies cool for at least 10 minutes before enjoying. The cookies might seem crumbly when you take them out of the oven, but they will stiffen up and stay together once cool.
*If You Care makes compostable parchment paper.
'Tis the season to make sustainable choices. A great way to repurpose these cookies is in a breakfast parfait! Break 2 cookies into large crumbs. Add a splash of vanilla extract to unsweetened coconut or dairy yogurt. Layer granola, yogurt, and your choice of berries in a mason jar or other dish to make a delicious, nutritious parfait.