I recently had an exciting opportunity to connect with Liam Junkermann, a member of the Whitby graduating class of 2015. I had heard that Liam continued to excel through high school and college and had entered the world of entrepreneurship this past year. I was eager to catch up with Liam to hear how he was doing and learn more about the impact Whitby had on his life's journey.
Liam and I connected over Zoom, right after he'd taken a plane back from Dublin, Ireland, where he is in his second year of college at Trinity College. First, I learned that Liam did, indeed, flourish after graduation. He attended the highly competitive Blair Academy high school in New Jersey. While doing very well academically, Liam also made a splash in crew, even being invited to the exclusive 2018 US Rowing Youth Regional Challenge. Only the top 400 rowers in the nation are invited; Liam's team finished fourth, even after one of their oars broke! In 2019, Liam was invited to the 2019 Junior National Team Single Sculls Trials in Princeton, where he placed an impressive second.
Liam fondly recalls several teachers at Whitby, particularly Mr. Putnam and Mr. Green, who "helped me formulate my way of thinking and approach to the world." Liam also recalls opportunities to return to Whitby to "grow IT and computer skills." Liam shared the story about how a little bit of trouble he got into exploring a Whitby computer program caught the attention of Whitby's Director of IT and Innovation, Tim Schwartz, but in a good way. Tim offered Liam the opportunity to be an IT intern at Whitby during his high school summers. The internship gave Liam insights into how computers can be most effective for education institutions and students, fueling some of his current passions.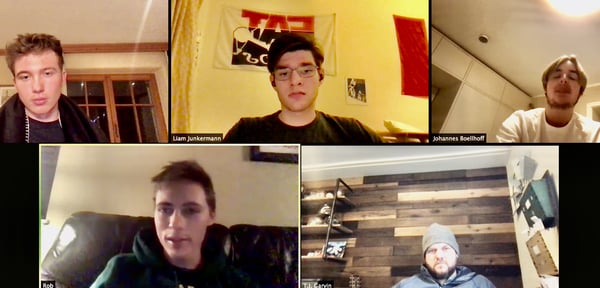 In the photo above, Liam is partaking in a product development call for start-up, L1nkup,
a fintech startup looking to create better way for students to pay for things on campus, starting with wristbands to pay for all items at school, and moving onto mobile technology for this use

.
Liam credits his Whitby internship with jumpstarting his career and putting him on the path to entrepreneurship. While at Trinity College, Liam formed a venture capital (VC) firm that connects students in Ireland with VCs in Ireland. While grant funding exists for students at universities, VC funding has previously been unavailable at that level. Liam and his co-founders are shifting that paradigm and collecting data along the way that they can sell in a tiered structure. Very impressive for a sophomore in college!
Clearly, Liam has an exciting road ahead of him. When he told me that after Whitby, "I felt ready to manage a challenge and had the confidence to take it on," I realized I see this kind of tenacity self-advocacy when I visit classrooms across all grade levels. I see this same tenacity and self-advocacy in my children, who are in Whitby Primary and Grade 2. I know that Whitby is preparing them for success in high school and beyond, just as I see Liam excelling in his life.
... after Whitby, "I felt ready to manage a challenge and had the confidence to take it on," Liam Junkermann Class of '15
---
Do you see your child as a Whitby student?
Arrange for a personal tour.