Now that these Design flags are actually helping your project, you have "crossed over" into Design thinking, and can use another timeless flag to simplify your thoughts. You've done the research, but you may not be exactly sure how you are going to use it, or even what you learned. So, to identify this info, we're going to review our three research methods and figure out: How will each research method help us?
You might think, "I don't need to use all of these methods," or "It's obvious what I learned," but you want to put it all down on paper. People on your team may want to see it, or you may need to convince someone that your design challenge can be accomplished. Using this design with fesses — or horizontal lines going across the flag — can help identify high-potential and timeless concepts of your own. This can be used during the fourth stage of Inquiring and Analysing, just like 8th grader Quinn R. did at the end of this post!
Use a Chisel Tip Sharpie to outline, then use a Fine Point Sharpie for the headlines (Research Method 1, 2, and 3). With an Ultra Fine Point Sharpie, add two bullet points: What I learned, and, How I will use it. Try to write a simple sentence about the most relevant info on this sheet, including any high-potential concepts you may have. These concepts will hopefully lead to future innovation through your design!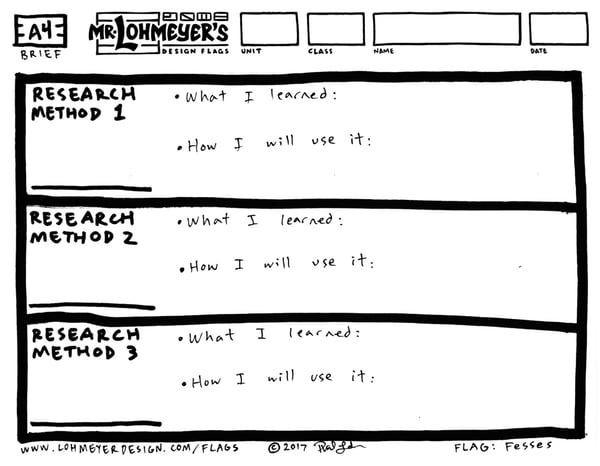 8th grader Quinn R. (Class of '18) writes...
"By researching a university's logo design contest (Winona State University for my group), I learned how to write the guidelines for a design contest. We can create our own rules so others know the guidelines of our Whitby 60th logo contest. By talking with my peers, I learned that the best ideas come from interaction. You don't always need to go to the internet for ideas! I also researched the Principles of Design (Balance, Contrast, Movement, Pattern, Rhythm, Unity). That way we can learn how to judge if a logo is outside of the box, just by using simple tricks to help us." -Quinn R.