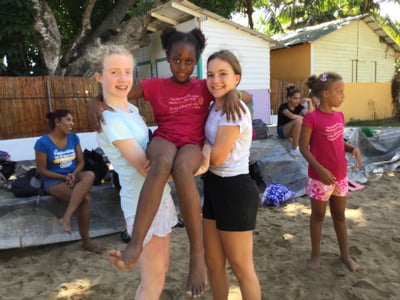 The Mariposa Foundation in the Dominican Republic has focused on educating and empowering young girls in the remote barrios of Puerto Plata. For the second straight year, our seventh and eighth graders worked with the foundation for their annual service trip. The trip has provided our students the opportunity to acquire life skills and knowledge, as well as provide service to the girls. It is important to raise awareness and challenge the prejudices that keep girls out of school.
As part of our wide range of activities we watched a video called The Girl Effect, and then discussed it with the Mariposa volunteers to help us understand the need to focus on girls' education. The video was moving and eye opening. It discussed how girls at a very young age are victims of gender-based violence, sex trafficking, maternal mortality, amongst other risks. The Girl Effect is an initiative to help improve a girls' economic opportunities and efforts to keep them in school.
So, why help girls?



Investing in women is one of the most effective and powerful ways to promote economic development.

Educating girls has a greater chance of raising the standards of living for their families and communities.

It reduces child marriages. When girls get married at a young age, they usually stop going to school to raise their families. On average, for every year a girl stays in school her marriage is delayed a year.

Increases involvement in government, thus helping their community.

Reduces domestic and sexual violence, since in poor areas women have less resources to be able to become independent from their abusers.

Increases number of educated children.

Everyday girls around the world are silenced by abuse. The Mariposa Foundation ensures the girls in the Dominican Republic have a voice, that they develop skills to effectively compete in the labor market, and that they learn their rights as children and as humans. The foundation also helps make sure they are safe and that they also contribute to their community. They empower young girls by helping them receive an education in a safe environment. This is why the work of many to improve the lives of girls is so fundamental and important for a better tomorrow.