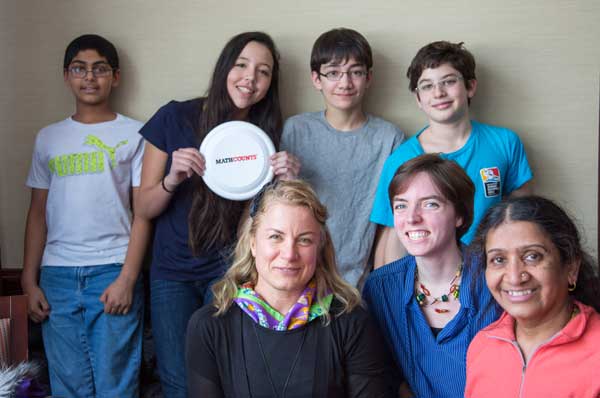 Four Whitby School "Mathletes" qualified for the MATHCOUNTS State competition in Hartford on March 8, each ranking among the top 30 students at the Southwest Chapter Competition held this past Saturday, February 8, 2014, at Fairfield University.
Whitby was reportedly the only school in Connecticut with all four of its teammates placing in their region's top 30. Out of 190 students competing from 29 schools, team members Caroline Lui (8th grade) and 7th graders Jacob Buehler, Neev Suryawanshi and Eric Osband will advance to the States. In addition, Neev steadfastly represented Whitby in the Countdown Round (top 12 students overall) but lost against the overall winner, Steven Ma. Nate won a MATHCOUNTS frisbee for answering a challenge question.
"It was a thrilling experience," exclaimed Annette Osband, Upper School Math Curriculum Coordinator and Math Teacher. "All I can say is that we have some serious talent at Whitby, but it also took serious work and preparation. It is sometimes not easy to have your child do yet another mock sprint round on a snow day, or stay on top of their ALEKS pie. Yet these efforts pay off in the long term and free us from the shackles of near-mastery to conquer new heights."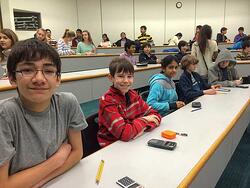 The Whitby team came in 7th overall, missing the team cutoff by one. All nine participants, Tara Bogavelli, Noah Bryan, Liam Hayes, Nate Lucas, Andrew Stern, Jacob Buehler, Neev Suryanwashi, Eric Osband and the team captain Caroline Lui, represented Whitby valiantly. Eastern Middle School, Brunswick, Greenwich Country Day School and Whitby were the only four Greenwich schools with students qualifying for the State level.
Raj Surywanshi, Neev's father, added, "As an official Connecticut MATHCOUNTS volunteer for the Connecticut Society of Professional Engineers," the organization that sponsors the competition, "when I told some of the officials about our school, they couldn't believe our achievement in only our second year of competition! This just proves our solid IB teaching methodology, along with having talented kids!"
Whitby's team was supported at the competition by math teachers Mrs. Osband, Ms. Padma Iyer, and Ms. Maureen Malley, Head of Upper School Jonathan Chein, and many of the team members' parents. Mrs. Osband's perspective on the competition can also be seen in her Whitby Bylines blog post, "Serious Talent, Work, Prep Lead Whitby Mathletes to State Competition".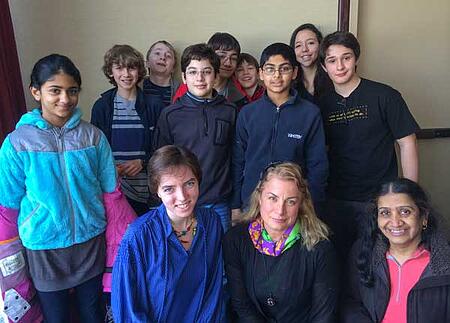 Whitby School, a co-ed independent school in Greenwich, CT, develops fearless achievers from 18 months through 8th grade who are inspired by discovery through its engaging and innovative curriculum. Whitby is the founding school of the American Montessori society and is triple-accredited by the American Montessori Society, the International Baccalaureate (IB), and the Connecticut Association of Independent Schools.