Last week Jonathan Chein shared with us his reflections on the important lessons learned at camp, and this week we enjoyed the first Upper School lunch groups. The lunch groups have students from various age groups (Grades 5 through 8) coming to eat lunch with a teacher or someone from the school's administration. This informal event occurs twice a week for 20 minutes and allows us all to get to know each other better and to build community. What a joy it was to get to know my group of young women who will have such an impact on the communities they will lead in the future!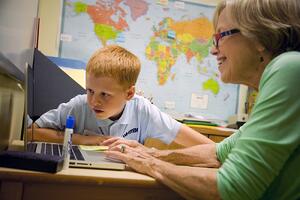 As we reflected on these learning engagements, we also wanted to share with you our excitement at having surpassed 1000 registrations for the school's fall co-curricular program! Over the past two years Mr. Putnam has worked tirelessly to provide a wide range of options and activities for our children to extend their learning and to challenge themselves to try something new and different.
The goal of the co-curricular program is consistent with the academic day. Through this program we aim to inspire a passion for learning and to meet the spectrum of whole child development - cognitively, socially, emotionally and physically. Our students enjoy a range of activities and lessons each and every day that go beyond our classroom curriculum.
It is a joy to see all the new opportunities that these programs have provided through participation in events and competitions such as: concerts, musical theatre productions, Model United Nations conferences, First Lego League competitions, chess tournaments, MATHCOUNTS competitions and, of course, participation in the MSFAA (Middle School Fairchester Athletic Association).
Within the Lower School, the range of options is quite staggering from kung fu, dance, golf and the new Lower School soccer program which boasts over 60 students each Friday, to Lego Robotics, Digital Animation, multi-tiered chess instruction, the Inventors Club and Film-making. At the core of the program is the quality and energy of the instructors, all of whom come with many years of experience and expertise in their chosen fields.
Two years ago we set out to build a co-curricular program that we could be proud of. Today we know each child is enjoying the fruits of our labor and each family is finding multiple ways to extend their child's learning beyond the classroom.