Hello, my name is Jasmine, and I am a 7th grader at Whitby School. Recently in Design Class we learned about "The Hero's Journey," a type of story that has been used many times throughout history. Some friends and I organized a fundraiser at school, and it went really well so we were asked to write a blog post about it.
Because I was the one who found the charity organizations (Force for Change and UNICEF), and just finished studying "The Hero's Journey," I thought I would try to write my blog post as its own…Hero's Journey!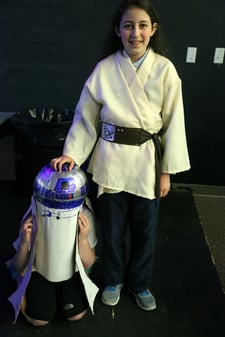 JUST AN ORDINARY DAY…
A not-so-long time ago in a school not-so-far away, a group of Whitby students from Upper School got together to try and plan something for Star Wars Day. If you didn't know, Star Wars day is May 4th (Get it? May the Fourth (Force) be with you!). So, we decided that we should try to do a movie screening and watch the original movie, Star Wars Episode IV: A New Hope (1977).
OUR CALL TO ADVENTURE…
There were just 3 or 4 of us at the first Star Wars meeting with Mr. Lohmeyer, and we thought "Hmm, maybe Star Wars isn't as popular as we thought... Should we really try to do this? What if nobody comes?"
Luckily, as we started to spread the word about our Wednesday morning meetings, more kids started to show up. We were just going to get together and watch the movie on May 4th, but then I found this really cool non-profit organization called Force for Change that is officially related to Star Wars, and also donates to UNICEF (a great cause)! So on that day, January 27 2016, I convinced our committee (still unnamed) to turn this movie screening thing into a fundraiser for Force for Change and UNICEF.
CROSSING THE THRESHOLD…
As I said before, we still didn't have a name, so we took some suggestions. The Jedi Council? It's been done. The Padawans? Maybe too obvious. Then our youngest member, 4th grader Ava, had a great idea: "What about The Rookie Wookies?"
Perfect! We all started to really like the idea of being "Rookie Wookies" and made Chewbacca (The Gentle Giant from the Star Wars movies) our official mascot.
Now a team of 10 kids, we were fully committed to this idea. We started to think of ways to get other Star Wars fans involved, since they were the most likely to come to our event.
TESTS, ALLIES, AND ENEMIES…
Since we wanted to do the event in the PAC, we had to get the support of Mrs. Rathus, Ms. DiNicola, and the Theatre department. We realized that our enemy was… TIME! Even though the event was a few months away, there was a lot to do. Our challenge was to advertise the party so people would come. We wanted to design and put up posters, send emails, and even hand out fliers at dismissal to kids and parents.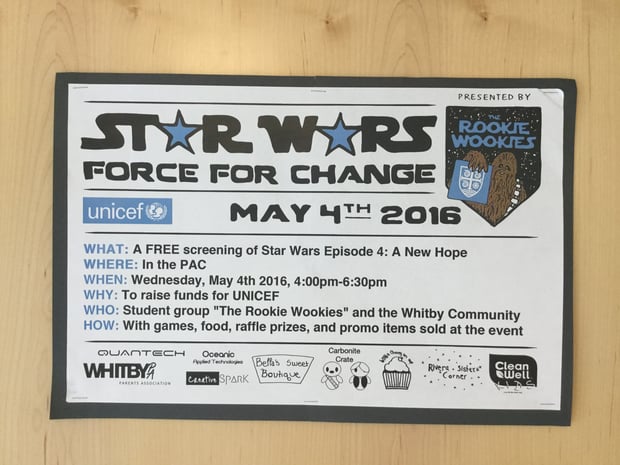 This was definitely a challenge, because nobody wanted the fliers!
PREPARING FOR THE BIG CHALLENGE…
To get ready for Star Wars day, we started coming up with ways that people could donate to Force For Change and UNICEF. We thought of a raffle, where all of the "Rookie Wookies" would bring in prizes.
Some 5th an 6th graders made a bake sale so that there could be snacks at the party. Also we wanted to make up some games so younger kids would want to come and could pretend to be part of the Star Wars universe.
SEIZING THE SWORD…
We brought in all of the prizes and made a really cool display in US-G! This would help other kids to want to come to the party, and get excited. The day of the event (May 4th), we were all super excited. We had come to school wearing Star Wars costumes or t shirts. We were talking about Star Wars all day. And then it was time for the event: It went perfectly. Our goal was to raise $1000 dollars. We not only met our goal, but we exceeded it by raising exactly $1328!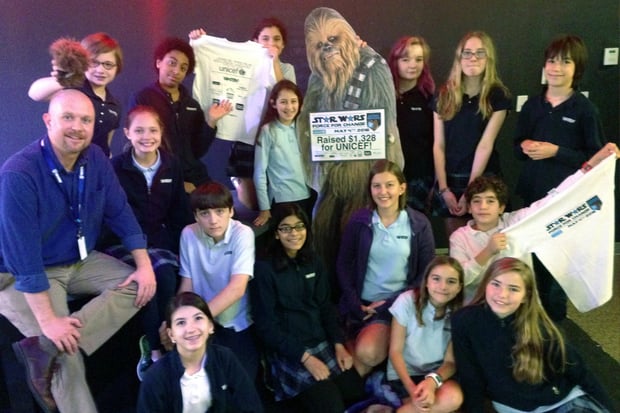 THE ROAD BACK...
So now that Star Wars Day is over, it's back to reality. We exceeded our goal thanks to the help of everyone who came to the event and supported the bake sales, games, and raffle. Our final meeting of "The Rookie Wookies" was last week, and we talked about having even more people come to our May Fourth party next year. We will have a lot of work to do, but it will be worth it to help out Force for Change and UNICEF! Thank you for reading and May the Fourth (Force) be with you!