As Upper School Science Teacher Shelley Castro and myself have closed out a full year of our genealogy club, I think it's a perfect time to reflect on our time so far. Students have spent the semester researching census records, newspapers, and other sources to find their ancestors, doing their best to piece together the stories of their family's past. As they have explored various aspects of their ancestry whether cultural, geographical, or with the focus on a certain ancestor, they have also extended their thinking and have started making connections with other class subjects as well.
Sixth grader Kate has joined us for various semesters of genealogy. Her research so far has focused on her Eastern European, Russian, and Jewish ancestors. To this, she says she was pleasantly surprised to see that her family had so many ancestors from this region.
Kate mentions that she has been able to make connections to English class, where they have spoken about identity, and she has perpetuated further learning about herself and her family through genealogy.
Researching her ancestors, Kate says "genealogy can help you learn more about your family and what they have gone through. You can visit a place and it can be sentimental because you can learn about the history and the connection to your family."
Equally, learning about her past has taught Kate more about her family's personal connection to the Holocaust (known in Hebrew as Shoah). In English, some of the students have read Milkweed — a historical fiction book that follows the story of a boy in Warsaw, Poland during WWII during the Holocaust.
In Milkweed one of the characters, Doctor Korczak, was loosely based off the story of an actual Polish Jewish man named Janusz Korczak, who was the director of an orphanage during the Nazi occupation of Poland during WWII. Instead of fleeing Poland, Janusz decided to stay and continue to protect the children. Unfortunately, in August of 1942, he and 192 of the orphans were marched to Umschlagplatz, one of the deportation points in Warsaw to the camps.
This an example of how a novel in class connected to an actual historical place and person brought the story full circle in genealogy with a personal connection to that specific time in history. Being able to make these connections in class to historical events provides students such as Kate an opportunity to associate with material being discussed on a deeper level.

Being able to learn more about yourself, as Kate stated, gives you more of a personal connection to both historical events and other social aspects such as culture and identity. Fifth grader Kena is another student who has been with us for various semesters of genealogy. Kena has come to understand his family better by learning about what they went through before they came to the United States and the time period when they arrived.
Being able to understand the circumstances of a family's immigration, the paths they took in life, and other key events can help paint a better picture of where our family finds themselves today. "It is important to discover who you are and what you belong to in order to make connections to your normal life," Kena says. "For example, being able to visit graves you did not know existed allows you to give respect to your ancestors because without them you would not be here."
Kena recently discovered the presence of his German roots in New York City, and not only was his second great grandfather a choir master in a church in Brooklyn, but his great grandmother also sang in that choir. Kena discovered more about the lives his family led during the mid-1900s and even saw photos of his ancestors of that time. By piecing together their lives by researching newspaper articles and census records, Kena learned how his ancestors made a living after arriving in this country — music being a centerpiece of the family both in Germany and the United States.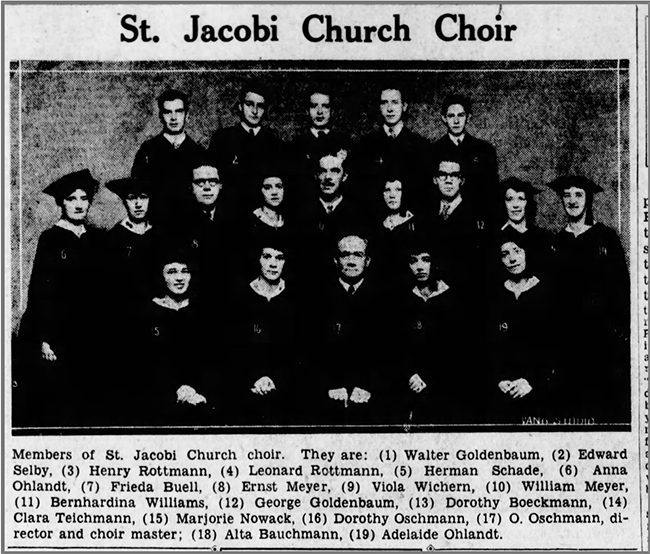 "St. Jacobi Church Choir." The Brooklyn Daily Eagle, 2 Dec. 1931, p. 52, www.newspapers.com/image/?spot=14227481.
I'm always excited as the new semester of our genealogy begins because it presents me an opportunity to connect with the students in a different way, outside of the classroom setting. It's always a pleasure to see students excited to find new names and records to add to their family tree. As a child, genealogy for me was a source of exploration, discovery, and pride of what I discovered not only about my ancestors, but ultimately about myself. And I'm excited to give students the same opportunity every time a new genealogy semester begins.